Hello my dears. Today I will share a wonderful teddy bear amigurumi pattern. I have shared quite a lot of crochet amigurumi teddy bears so far. Today, we are with you again with a new one. The teddy bear is designed as if he is wearing an amigurumi trousers. I can say that it is a beautiful design. She also has a beautiful sweater with a swirl pattern. Other parts are made in a standard way. However, it can be a bit tiring because there are too many color transitions. Now if you're ready, let's get started.
Designer: nat__knits
NECESSARY MATERIALS:
1. Yarn 4-5 colors. The work used Yarnart Jeans
2. Hook No:2
3. Eyes (9 mm)
4. Filler (holofiber)
5. Scissors
6. sewing needle
When using the specified materials, the size of the toy will be 20cm.
Abbreviations
AR – Amigurumi Magic ring
MR – Amigurumi Magic ring
3in1 – crochet 3 columns in one loop
sc : Single Crochet
inc : Increase
dec : Decrease
tr : Triple Crochet/ Treble Crochet
st: Stitch
dc : Double Crochet
hdc: Half Double Crochet
sl-st or Slst: Slip Stitch
ch : Chain
tch: Turnin chain crochet
..in : make increase into same stitch as many as the number which is given in front of "inc" abbreviation (exp; 3inc, 4inc..).
FLO : Crochet into front loops only
BLO : Crochet into back loops only
Head: main color
1. 6sc in MR
2. 6inc (12)
3. (sc, inc)*6 (18)
4. (sc, inc)*9 (27)
5. (2sc, inc)*9 (36)
6-7. 36sc
8. (5sc, inc)*6 (42)
9. 42sc
10. (6sc, inc)*6 (48)
11-12. 48sc
13. 8sc, (inc, 2sc)*3, 15sc, (2sc, inc)*3, 7sc (54)
14. 8sc, (inc, 3sc)*3, 15sc, (3sc, inc)*3, 7sc (60)
15-17. 60sc
18. (8sc, dec)*6 (54)
19. 54sc
20. (7sc, dec)*6 (48)
21. (4sc, dec)*8 (40)
22. (2sc, dec)*10 (30)
23. (3sc, dec)*6 (24)
24. (6sc, dec)*3 (21)
Leave a tail for sewing
Eyes 9mm, place between rows 13 and 14, 8sc apart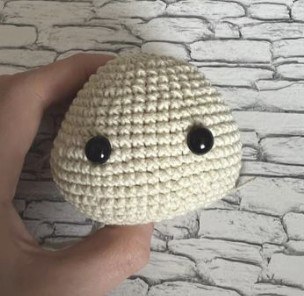 Ears: main color
1. 8sc in MR
2. 8inc (16)
3. 16slst
Leave a tail for sewing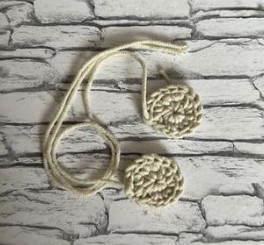 Muzzle: white
1. 6sc in MR
2. 6inc (12)
3. (3sc, inc)*3 (15)
4. 15sc
Leave a tail for sewing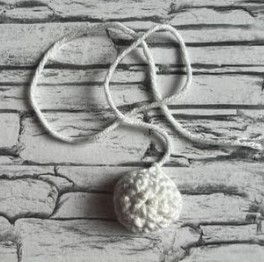 Arms: main color
1. 6sc in MR
2. 6inc (12)
3-4. 12sc
5. 5sc, 3dc in 1 loop, 6sc (12)
6. 4sc, 2dec, 4sc (10)
7-11. 10sc
Change to shirt color
12. BLO 10sc
13. 10sc
Change to an additional color of the blouse
14. 10sc
change color
15-16. 10sc
change color
17. 10sc
change color
18-19. 10sc
Fold the part in half, crochet 5 sc on both sides, leave the tail for sewing
Legs: main color
1. 6sc in MR
2. 6inc (12)
3. (sc, inc)*6 (18)
4. (5sc, inc)*3 (21)
5-6. 21sc
7. 6sc, 5dec, 5sc (16)
8. 4sc, 4dec, 4sc (12)
Change to pants color
9. 12sc BLO
10-13. 12sc
14. (3sc, inc)*3 (15)
15. 15sc
Fasten the thread on the first leg, cut
On the second leg, crochet an additional 5-6sc so that the legs look even and move on to crochet the body
Body: +3ch
1. (15sc, 3sc in ch)*2 (36)
2. (5sc, inc)*6 (42)
3. (6sc, inc)*6 (48)
4-7. 48sc
8.(6sc, dec)*6 (42)
9. 42sc
Change color to the main color of the blouse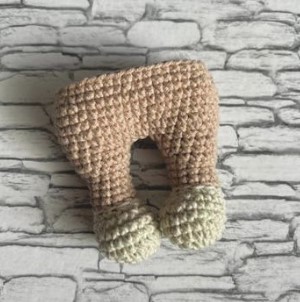 10. 42sc BLO
11. (5sc, dec)*6 (36)
Change color to additional, then alternate
12. 36sc
change color
13. 36sc
14. (4sc, dec)*6 (36)
change color
15. 30sc
change color
16. 30sc
17. (3sc, dec)*6 (24)
change color
18. 24sc
change color
19. 24sc
Change to bear color
20. BLO (6sc, dec)*3 (21)
Next, decorate the toy, sew on all the details and the bear is ready 🐾
Crochet with pleasure☺️🧸