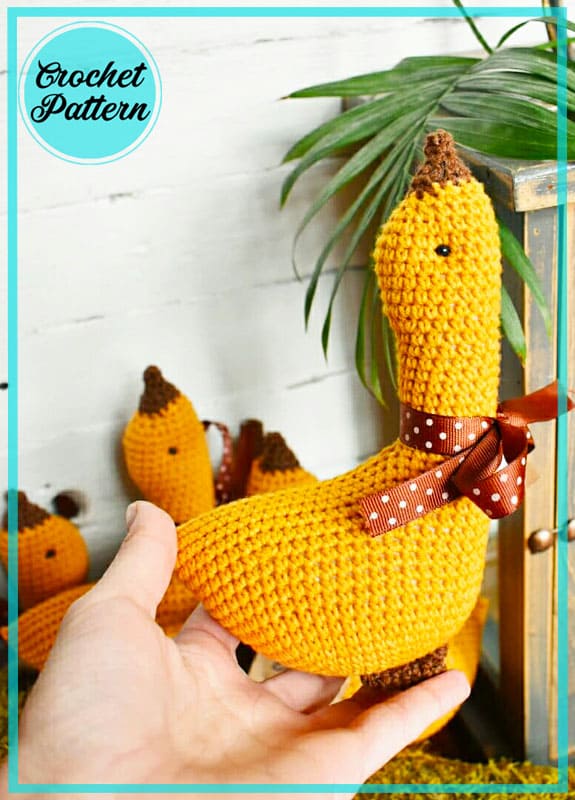 Goose birds are very cute birds that can make long migrations. Today, I will share a very beautiful goose amigurumi pattern. A very plain and simple goose amigurumi pattern. A yellow color close to orange was used as the color and it is a very effective color. It is quite simple to crochet goose amigurumi. All you have to do is follow the step by step directives. Afterwards, you will have a beautiful goose amigurumi pattern by completing the fine details. I want to share this under the crochet bird amigurumi category. I hope you like the goose amigurumi pattern. Our free amigurumi patterns series continues.
DEAR NEEDLEWORKS!
My name is Marina, and I am glad that you have chosen my amigurumi patterns for your creativity. I love each of you, because we are close in spirit already in the fact that we are addicted to crocheting.
In the picturesque town of Braslav, I have my own author's workshop, where I work and sell my products.
By purchasing a amigurumi pattern, you become a part of my little world of creativity and creativity.
I would like to leave here for you to think about the PRINCIPLES of my work, in order to find a response in your soul and make you think about why you have chosen this particular type of creativity in your life.
1. Environmental friendliness. In my work, I use only natural, environmentally friendly materials.
2. Waste minimization. Two aspects can be distinguished here. First, minimizing your own garbage when creating toys. I make the most of all the material, leftovers and cuttings. Secondly, it is the fight against the plastic disposable mass market. It is better to buy one high-quality and expensive item than a lot of low-quality cheap ones.
3. Sincerity. Each result of my work is unique and soulful.
4. Creativity. The development of creative thinking in humanity is one of the important elements of my activity.
5. Quality. Only new and certified materials are used in my work.
6. Development. Endless and continuous. Every year I have new amigurumi patterns, developments, students and projects.
Now let's get to work!
Abbreviations
AR – Amigurumi Magic ring
MR – Amigurumi Magic ring
App – application
ll – lift loop
sc : Single Crochet
inc : Increase
dec : Decrease
tr : Triple Crochet/ Treble Crochet
st: Stitch
dc : Double Crochet
hdc: Half Double Crochet
sl-st : Slip Stitch
ch : Chain
..in : make increase into same stitch as many as the number which is given in front of "inc" abbreviation (exp; 3inc, 4inc..).
FLO : Crochet into front loops only
BLO : Crochet into back loops only
BL : Bobble Stitch – do 5dc all in the same stitch and then yarn over and pull through all the loops on your hook (the original loop + 1 loop for each partially completed dc)
YOU WILL NEED:
YarnArt Jeans yarn (mustard color) is the main color of the toy;
YarnArt Jeans yarn (chocolate color) for beak and legs;
A piece of brown ribbon for a bow;
Filler – holofiber;
Hook number 3-4;
Beads are black for the eyes;
Scissors;
Needle for stitching parts.
BODY, NECK, HEAD:
We begin to knit with mustard color from below, then move on to the neck and head.
1. 6 sc in MR (6);
2. 6 inc (12);
3. (sc, inc)*6 (18);
4. (2 sc, inc)*6 (24);
5. (3 sc, inc)*6 (30);
6. (4 sc, inc)*6 (36);
7. (5 sc, inc)*6 (42);
8. (6 sc, inc)*6 (48);
9-15. 48 sc;
16. (7 sc, inc)*6 (54);
17. (8 sc, inc)*6 (60);
18-21. 60 sc.
Next, we fold the resulting part in half and connect the two sides together with connecting posts.
We crochet 21 connecting posts. We fill the goose's body through the remaining hole. Next, we will shape the neck.
22. Knit around the remaining hole 18 sc;
23-33. 18 sc;
34. At the beginning of the row, make 4 increments in a row (in order to form the head), continue row 14 sc;
35-41. 22 sc;
42. At the beginning of the row, we make 4 decreases in a row (to move on to knitting the beak), continue row 14 sc;
43. (1 sc, dec)*6 (12).
In the course of knitting, we stuff the neck of the goose with holofiber.
Change the thread of the base color to chocolate or whatever color you choose for the beak.
44-45. 12 sc;
46. 6 dec (6);
47-48. 6 sc;
49. 3 slst.
LEGS:
We crochet with yarn of the same color as the beak. We make two parts.
1.6 sc in MR;
2-6. 6 sc.
Sew the legs in the lower part of the body. Sew the eyes symmetrically on both sides, making a tightening. Tie a ribbon or lace bow around your neck for decoration.