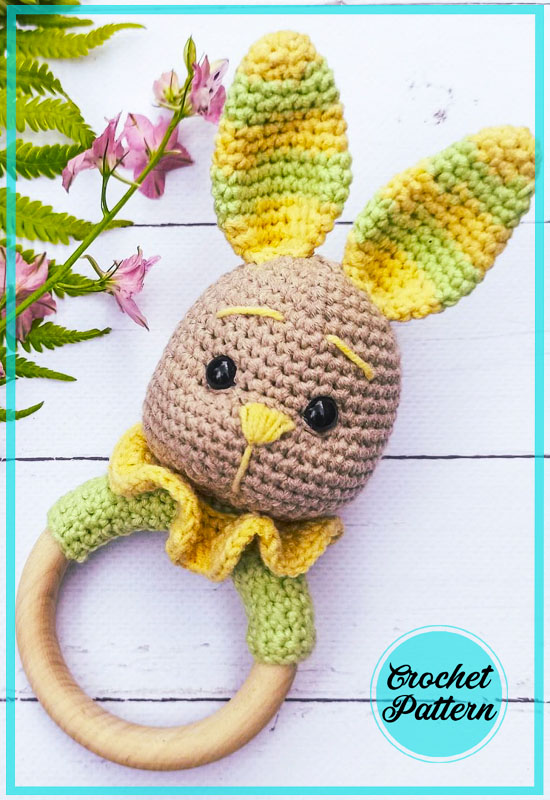 Today I want to share a different amigurumi bunny pattern. Our pattern today is the rattle amigurumi pattern. In fact, rattle amigurumi patterns were very popular in the early days. However, as amigurumi techniques and patterns developed, they were not preferred much. However, it is a pretty easy amigurumi pattern for beginners. I tried to show that the rattle bunny amigurumi pattern will be crocheted step by step. Hope you like this pattern. I continue to share free amigurumi patterns
Designer: voronina_toys
Necessary materials
Yarnart Jeans brown yarn
yellow green
eyes 0.8mm on a secure mount
ring diameter 7cm
holofiber
long needle for sewing on parts
Abbreviations
AR – Amigurumi Magic ring
MR – Amigurumi Magic ring
App – application
ll – lift loop
sc : Single Crochet
inc : Increase
dec : Decrease
tr : Triple Crochet/ Treble Crochet
st: Stitch
dc : Double Crochet
hdc: Half Double Crochet
sl-st : Slip Stitch
ch : Chain
..in : make increase into same stitch as many as the number which is given in front of "inc" abbreviation (exp; 3inc, 4inc..).
FLO : Crochet into front loops only
BLO : Crochet into back loops only
BL : Bobble Stitch – do 5dc all in the same stitch and then yarn over and pull through all the loops on your hook (the original loop + 1 loop for each partially completed dc)
Head
1Rnd: 6sc in MR
2Rnd: 6 inc(12)
ЗRnd: (1sc, inc)*6(18)
4Rnd: (2sc, inc)*6(24)
5Rnd: (Зsc, inc)*6(30)
6Rnd: (4sc, inc)*6(З6)
7Rnd: (5sc, inc)*6(42)
8-12Rnd: without changes (42)
13Rnd: Зinc, 6sc, Зinc, 30 sc.
14-17Rnd: without changes (48)
now we insert the eyes and begin to fill
18 Rnd: (6sc, dec)*6(42)
19Rnd: (5sc,dec)*6(36)
20Rnd: (4sc, dec)*6(30)
21Rnd: (Зsc, dec)*6(24)
22Rnd: (2sc, dec)*6(18)
fix the yarn, leave the long end for sewing
Ears
start with yellow
6sc in MR
2Rnd: (1sc, inc)*3
ЗRnd: 9sc
green
4Rnd: (2sc, inc)*3
5-6Rnd: 12sc
yellow
7Rnd: (Зsc, inc)*3
8Rnd: 15sc
9Rnd: (4sc, inc)*З
green
10Rnd: (5sc, inc)
11-12Rnd: 21 sc
Yellow
13Rnd: (5sc, dec)*З
14Rnd: (4sc, dec)*З
15Rnd: 15sc
knit 7sc for both walls, fasten the yarn, leave the long end for sewing
Ring harness
We cast on 11ch and from the 2nd from the hook we knit But 10 sc in rotary rows. At the end of each row, make an air loop and unfold the knitting.
See for yourself the length … how you like it!
Collar
We collect 20 ch
2rnd : From the second loop from the hook, we knit an increase with a crochet to the end of the row.
3rnd : We tie it simply with single crochet. We fasten the yarn, leave the end for sewing the collar.
Before sewing the head to the crotch, make an eyelet tighten, embroider the nose, sew on the ears to immediately hide the yarn in the hole of the head.