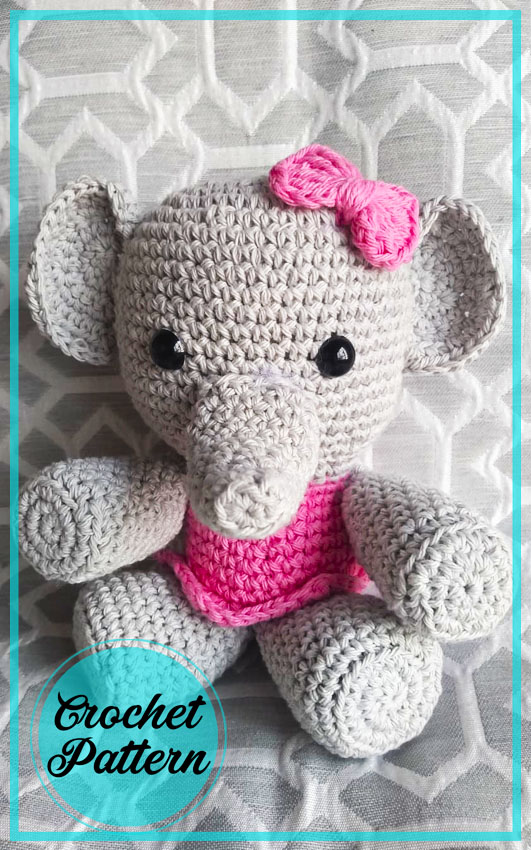 Dear friends. Today I will share a very easy crochet elephant pattern. The general lines of the pattern are quite easy and I think it will definitely be the right choice for a beginner. It also has a pretty cute accessory. Making bow ties like this kind of buckle adds a very different atmosphere to amigurumis made for girls. It also helps develop the art of amigurumi. The parts of the elephant are made separately and put together. This will make your job even easier.
Hello dear friends. Today we share little elephant amigurumi in pink dress.
Designer: @crochet.mai_pattern
MATERIALS
• 8/6 COTTON YARN
GRAY AND PINK
• CROCHET HOOK NUMBER 2.5 OR 3
• WOOL NEEDLE
• EYES WITH INSURANCE
Abbreviations
AR – Amigurumi Magic ring
MR – Amigurumi Magic ring
App – application
ll – lift loop
sc : Single Crochet
inc : Increase
dec : Decrease
tr : Triple Crochet/ Treble Crochet
st: Stitch
dc : Double Crochet
hdc: Half Double Crochet
sl-st : Slip Stitch
ch : Chain
..in : make increase into same stitch as many as the number which is given in front of "inc" abbreviation (exp; 3inc, 4inc..).
FLO : Crochet into front loops only
BLO : Crochet into back loops only
BL : Bobble Stitch – do 5dc all in the same stitch and then yarn over and pull through all the loops on your hook (the original loop + 1 loop for each partially completed dc).
Elephant Pattern
R 1: 8 SC IN THE M.R (8)
R 2: 8 INC (16)
R 3: (SC, INC) X8 (24)
R 4: (2 SC, INC) X8 (32)
R 5: (3 SC, INC) X8 (40)
R 6: (4 SC, INC) X8 (48) R 7-20: 48 SC (48)
R 21: (4 SC DEC) X8 (40)
R 22: (3 SC, DEC) X8 (32)
R 23: (2 SC, DEC) X8 (24)
R 24: 24 SC IN THE BACK LOOP, 24 SC IN THE FRONT LOOP (IN THE SAME ROW)
CHANGE TO PINK
R 25: 24 SC (24)
AT THIS POINT OF THE AMIGURUMI, PLACE THE EYES BETWEEN ROW 14-15 WITH 8 STITCHES APART.
R 26: (7 SC, INC) X3 (27)
R 27: 27 SC
R 28: (8 SC, INC) X3 (30)
R 29: 30 SC
R 30: ( 9 SC, INC) X3 (33)
R 31: 33 SC
R 32: (10 SC, INC) X3 (36)
R 33-35: 36 SC
R 36: GRABBING THE FRONT LOOP, WORK (1 SC, 1 HDC , 2 DC, 1 HDC, 1 SC) X6 (36) GRABBING THE BACK LOOP OF THE SAME ROW, SC 36
R 37: (4 SC , DEC) X 6 (30)
R 38: (3 SC, DEC) X6 (24)
R 39: (2 SC, DEC) X6 (18)
R 40: (1 SC, DEC) X6 (12)
R 41: 4 DEC (8)
LEGS x2
R: 8 SC IN THE M.R (8)
R : 8 INC (16)
R 3: (1 SC, INC ) X8 (24)
R 4: 24 SC IN THE BACK LOOP
R 5: 11 SC, DEC, 11 SC (23)
R 6: 23 SC
RECOMMEND PUTTING A CARDBOARD / PLASTIC BASE ON THE LEG SO THAT IT LIES FLAT
R 7: DEC, 21 SC (22)
R 8: 22 SC
R 9: 10 SC, DEC , 10 SC (21) RA 10: 21 SC
R 11: DEC, 19 SC (20)
R 12: 20 SC
R 13: 9 SC, DEC , 9 SC (19)
R 14: 19 SC
SL ST
ARMS x2
R 1: 6 SC IN THE M.R (6)
R 2: 6 INC (12)
R 3: ( 1 SC, INC) X6 (18)
R 4 18 SC GRABBING THE BACK LOOP
R 5: 8 SC, DEC , 8 SC (17)
R 6: 17 SC
PUT A CARDBOARD / PLASTIC BASE TO THE LEG SO THAT IT LIES FLAT
R 7: 1 DEC 15 SC (16)
R 8: 16 SC
R 9: 7 SC, DEC, 7 SC (15)
R 10: 15 SC
R 11: 1 DEC, 13 SC (14)
R 12: 14 SC
R 13: 6 SC, DEC, 6 SC (13)
R 14: 13 SC
R 15: DEC, 11 SC (12)
R 16: 12 SC SL ST
BOW
1. MAGIC RING
2. 5 CHAINS
3. 6 TRC IN THE M.R
4. 5 CHAINS, SL ST IN THE M.R
5. 6 TRC IN THE M.R
6. 5 CHAINS, SL ST IN THE M.R
EARS x2
R 1: 6 Sc IN THE M.R, CHAIN
R 2: ( 1 SC, INC) X3, CHAIN
R 3: ( 2SC, INC ) X3,CHAIN
R 4: ( 3 SC, INC) X3, CHAIN
R 5:4 HDC, 1 INC-HDC, 3 HDC, SC, INC, 4 SC, INC, CHAIN
R 6: 5 SC, INC, 5 SC, 1 INC-HDC, 5 HDC, INC- HDC. SL ST
BEND THE EAR A LITTLE, AS SHOWN IN THE PICTURE
NOSE
R 1: 8 SC IN THE M.R
R 2: 8 SC IN THE BACK LOOP
R 3: 8 SC
R 4: INC, 7 SC (9)
R 5: 4 SC, 1 INC, 4 SC (10) R 6:INC, 9 SC (11)
R 7: 5 SC, INC, 7 SC (12) R 8:INC, 11 SC (13)
R 9: 6 SC, INC, 6 SC (14)
R 10: INC, 13 SC (15)
R 11: 7 SC,INC, 7 SC (16)
R 12: INC, 15 SC (17)
R 13: 4 SC (INC, SC )X4, 5 SC (21) SL ST