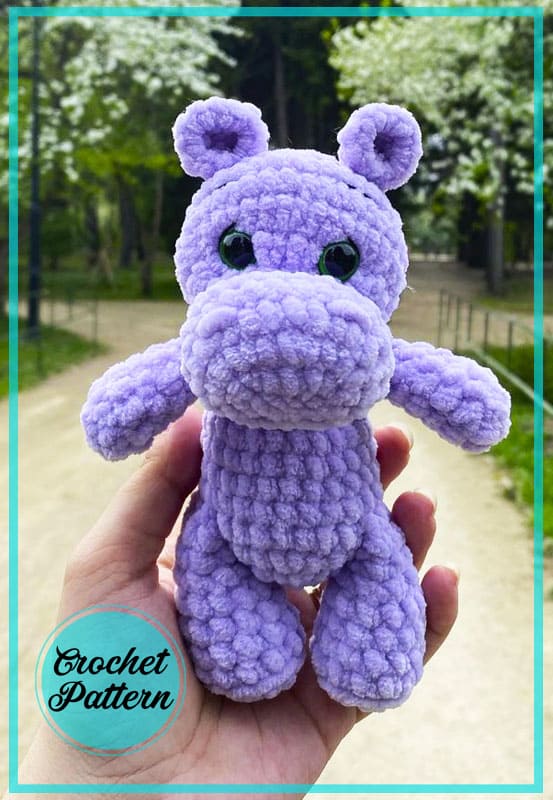 Friends, today we will crochet a very easy hippo amigurumi. Amigurumi is made using velvet yarn. When you use velvet yarn, amigurumi is much easier to crochet. The biggest reason for this is the lack of small details. You usually crochet in a simple way. Also, hippo free amigurumi pattern is not very big in size. For this reason, if you are going to crochet with normal yarn, it will be quite small. I recommend using velvet yarn. You can make a plush hippo in a very short time. You can see the required materials in the description section. Now let's crochet hippo pattern amigurumi step by step.
Required materials:
1. Yarn YARNaRt dolce (lilac color); iris yarn (black)
2. Hook 3mm.
3. Eyes 12mm on a secure mount
4. Scissors, white thread, needle, marker.
5. Filler (holofiber)
—————————
In the head pattern, a row is missed after row 10, you need to knit another row 3sc – (1pssn – pr (pssn) * 7 times) -2pssn -7sc (33) 🙈 (then everything is according to the scheme)
If you have any questions, write😊
Abbreviations
AR – Amigurumi Magic ring
LL: Lifting loop Click for mean!
MR – Amigurumi Magic ring
App – application
sc : Single Crochet
inc : Increase
dec : Decrease
tr : Triple Crochet/ Treble Crochet
st: Stitch
dc : Double Crochet
hdc: Half Double Crochet
sl-st : Slip Stitch
ch : Chain
..in : make increase into same stitch as many as the number which is given in front of "inc" abbreviation (exp; 3inc, 4inc..).
FLO : Crochet into front loops only
BLO : Crochet into back loops only
BL : Bobble Stitch – do 5dc all in the same stitch and then yarn over and pull through all the loops on your hook (the original loop + 1 loop for each partially completed dc)
Legs
1р. 6sc in MR
2р. 6inc (12)
3р. For the back loop 12 sc
4-6р. 12 sc
7р. 1 sc – dec (8)
8-9р. 8 sc
Cut off the thread.
We fill it with holofiber.
Arms
1р. 6sc in MR
2р. 1 sc-inc (9)
3р. 9 sc
4р. 1 sc-dec (6)
5-6р. 6 sc
Cut off the thread, do not fill.
Ears:
1р. 6sc in MR
2р. 6inc (12)
Body:
1р. 6sc in MR
2р. 6inc (12)
Зр. 1sc-inc (18)
4р. 2sc-inc (24)
We knit the legs:
5р. 4sc-(legs 4sc)-7с6н-(legs 4sc)-5sc (24)
6-9р. 24sc
10р. 2sc -dec (18)
11р. 18sc
We knit the arms:
12р. 4sc-(arms Зc6н)-5sc-(arms Зе6н)-Зc6н (18)
We leave a long thread for sewing on the head, fill it with holofiber.
Head:
1р. 5ch
2р. Starting from the second loop:
inc-2sc-2inc-Зе6н-inc (13)
Зр.inc-1 sc (20)
4р. 2sc-inc-5sc-inc-2sc-inc-8sc (23)
5-7р. 23sc
8р. 2sc-dec * 4 times -1 sc-dec *2times – 1 sc
9р. 2sc-(1hdc-inc(hdc)*Зtimes)-1 hdc-8sc
10р. 3sc-(1hdc-2inc(hdc)*7times-2hdc-7sc (33)
11-12р. 33sc
13р. Зsc – dec – at the end 3 sc
14р. 2sc – dec – at the end 3 sc
Eyes 8 row between the eyes 2 inc (hdc)
15р. 1 sc-dec
16р. 8dec
Fill the head with holofiber, pull off the hole. Sew the head to the body.
Assembly:
We make a tightening of the eyes and over the muzzle.
Sew on all the details (ears). We embroider the nose (with lilac yarn), the eyebrows with black yarn.